Intex Explorer K2 Inflatable Kayak Review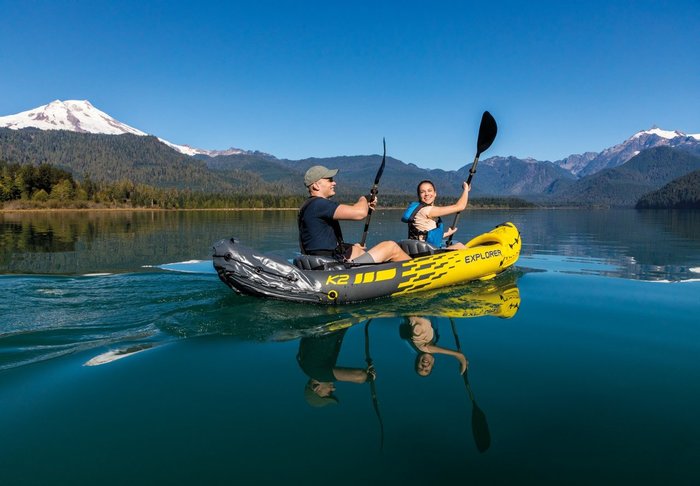 This kayak is considered to be the absolute best inflatable kayak out there. There are a number of reasons why the Explorer K2 happens to be so popular in comparison to its counterparts. The following article will go over why that is, as well as what makes this boat such a bestseller.
When reading reviews for this boat, you'll find that a majority of them are overwhelmingly positive. There are reasons why many people prefer the Intex Explorer K2 over the alternatives available to them. Before we dig deep into the subject, let's go over the Intex Explorer K2's specs:
Material: PVC.
Pressure: about 0,069 bar.
Maximum load: 400 pounds.
Weight: 30.6 pounds.
Width: 3 feet.
Length: 10'3".
Capabilities: 2 people.
Features
Exterior
The Intex Explorer K2's exterior is quite durable. It is capable of handling rough environments without inflicting damages. This kayak's vinyl exterior is capable of sustaining damages when it gets hit by debris or pushed off of rocks. Although some people complain about the paddle quality, in comparison to similar products within the kayak's same price range, the Explorer K2 ends up holding up significantly well.
Outlook
As far as design perspective is concerned, this kayak looks great – especially when you contrast it to other types of kayaks that are available in its price range. Usually, inflatable kayaks tend to be bombarded by negative comments because of their flimsiness, as well as their durability loss. This kayak comes with a couple of individual air compartments, flawed as they may be. For example, if a hole were to appear on the vinyl, then the kayak will not immediately burst. You'll have a little bit of time to reach the shore well before you start getting soaked.
The Explorer K2 comes with a couple of seats, both of which come with Velcro you can use to strap to the boat's floor. There is a backrest on both seats, as well as a modifiable belt that keeps you comfortable and safe while riding.
Accessories
You will get a transportation bag, as well as a couple of double paddles. Inflation is achieved with the included pump. Because of how many accessories you get, you won't have to pay any extra fees for accessories.
Handling
Those who lack kayak experience will find the Explorer K2 to be a fantastic starter boat. It handles quite well on both small lakes and calm rivers. People who are just learning to kayak will do quite well riding this boat. It comes with skegs that are removable, increasing the kayak's directional stability.
Security
The Intex Explorer K2 comes with several air chambers, helping to keep the kayak secure. If the initial layer were to get punctured, then the remaining two will keep the kayak floating, optimizing safety. Inflating the kayak takes about 10 minutes. More information about the chambers' measurement scales are printed directly on the material. As such, you'll know precisely how much air pressure to give every chamber. A surplus of pressure will end up damaging the chambers. Insufficient pressure will cause the boat's performance to slow down.
If you intend to bring the boat out in harsh weather or in rough waters, then you won't enjoy yourself in the Intex Explorer K2. In such situations, it will prove difficult to regulate the boat. In regular circumstances, the Intex Explorer K2 will remain stable without getting tipped over. For this reason, beginners should try to inflate a kayak they're interested in before making a commitment to it.
Selling Points
The biggest reason why this kayak is head-and-shoulders above its counterparts is because of how affordable it is. There are all sorts of inflatable boats to choose from, and they all sell very well. Inflatable kayaks tend to be sought after because of how compact they are, their weight and size, and their price. Anyone on a limited budget would do well to choose the Intex Explorer K2. It will end up being a better option than making an investment in a kayak that is much more intricate.
Inflatable kayaks that are beginner-friendly are affordable and have mechanics that are simple to use. After familiarizing yourself with its mechanics and seeing how they function, you'll be able to upgrade to a more expensive one down the road. But when you're first starting out, it would be prudent to select an inexpensive option.
Overview
Ultimately, considering how cheap this boat is, you really cannot ask for anything more. The Intex Explorer K2 remains the best option for many people, particularly first-timers. Start off with this kayak before moving onto a more advanced option. If you want to enjoy yourself when riding, then this is the boat you should be looking at. You'll get the reliability, comfort, and value you need by doing so.